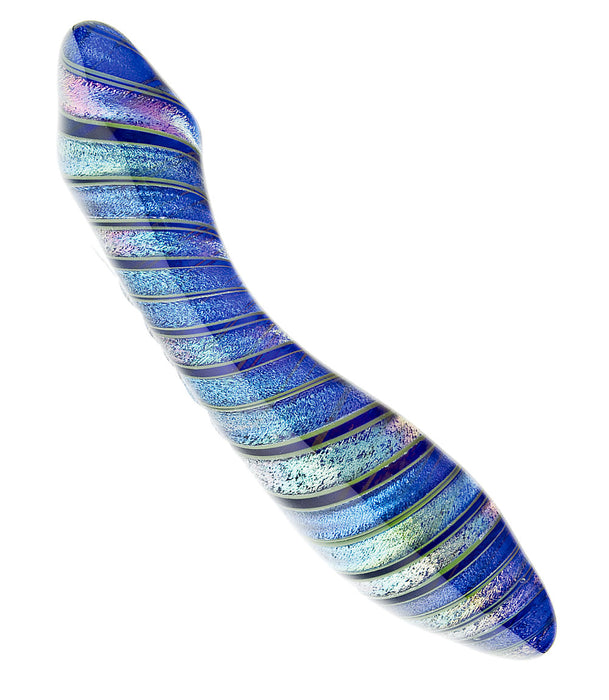 Dahlia Double-Ended Glass Dildo
Colored Double-Ended Glass Dildo
Original price
$198.95
-
Original price
$198.95
Product Details
The Dahlia is a double-ended glass dildo with a stunning multicolored dichroic (color-changing), medical-grade German Schott glass shaft, and a beautiful pinstripe. Each end has a tapered head designed for added ease of insertion and G-spot stimulation. To add increased pressure to the G-spot angle, position the dildo upward to put added pressure against it. Made in the USA and made with properly annealed Borosilicate Shott brand glass, which is stronger than regular Pyrex glass.
Cleaning & Care
Glass is very easy to clean and can be washed with soap and water, sex toy cleaner, and putting them in the dishwasher. Ensure the water is at room temperature before adding or removing any glass with sudden, drastic temperature changes that may, on rare occasions, crack. Remember to stay away from abrasives so as not to scratch it. For more information, please see our Glass Sex Toy Guide.  Not recommended to use anally.
Our glass toys are the best on the market and are properly annealed Borosilicate Shott brand glass. Each of our Phallix glass sex toys is custom-made by a skilled glassblower in the USA, especially for your order. Once an order has been placed for this product, it may not be canceled and may not be eligible for expedited delivery. Colors may vary slightly based on what the glassblower has available. If you have specific color requests, let us know in the special instructions section when placing your order. Please note that making special color requests may prolong shipment times if the colors are not already in stock.

Why Our Glass Sex Toys Are The Safest

We are focused on sexual health, and unlike sex toy retailers that sell cheap sex toys that may contain toxins, we only carry high-quality, body-safe products, which is why we only carry properly annealed glass sex toys. Most of the glass sex toys sold today are cheap and from China. Typically, they are not adequately annealed, contain lead, or are spray painted using dangerous chemicals. Our non-toxic glass dildos are lead-free and are created by Master Glass Artisans, who make each glass dildo with the artistic beauty and safety you deserve. Because they are handblown, no two erotic art objects are ever exactly the same.
Features
Approximate Size
Length Approx. 8"
Shaft Diameter Width Approx.: 0.75" - 1.25"
Head Diameter Width Approx.: 1.4" - 1.6"
Additional Education: Determining Size
Heating & Cooling

Heating Borosilicate Schott Glass- Since our Borosilicate Schott glass insulates and holds temperatures, warming your Dahlia Double-Ended Glass Dildo may provide additional sensory stimulation. The safest and proper way to heat your glass takes about 20 - 25 minutes. Make sure your glass is at room temperature, and then add very warm tap water directly onto it or by submerging in a bowl or sink. Keep it submerged for about 5 minutes. Carefully pour out or drain 1/2 to 2/3 of the water from the bowl or sink, leaving the glass partially underwater. If you want it warmer, you can then fill the remainder of the bowl or sink with boiling water and allow it to soak for 20 minutes. Always test the temperature before using glass, as it can burn the skin at high heat. Remember, it holds its heat very well.

Cooling Borosilicate Schott Glass- Freezing glass sex toys is not a good idea. It may stick to the skin or crack if thawed too rapidly. For this reason, we recommend avoiding extreme cooling or freezing methods for your Dahlia Double-Ended Glass Dildo. Use the same process to safely cool your toy as you use to heat it. Just substitute cool water for very warm tap water and use ice water with ice cubes instead of boiling water. This process should also take 20 - 25 minutes.
Product Material(s)

Medical Grade German Schott Glass
Additional Education: Sexual Product Material Types

Item Number: SM23
Curved Wand, Dichroic, Contoured