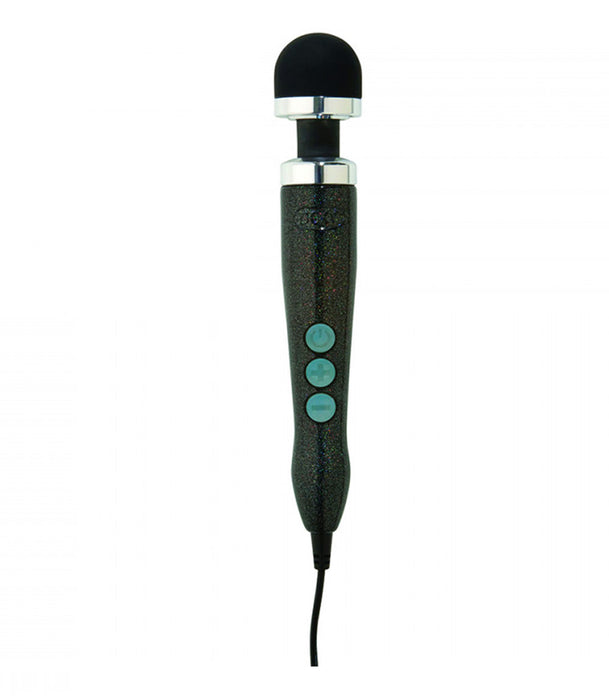 Doxy Die Cast 3 Wand Vibrator
Original price
$169.95
-
Original price
$169.95
Product Details
Cleaning & Care
The Doxy Die Cast 3 is an incredibly powerful, electric wand vibrator with an aluminum/titanium alloy body. It can reach up to 9,000 RPM and is considered one of the world's most powerful electric massagers. It is exceptionally well made using aluminum and cast on-site. In addition, the weight and mechanism inside the head mean that it rolls and rumbles rather than buzzes, which features incredibly powerful vibrations that penetrate deep into the body. It can be used as a general body massager or for intimate intentions. Designed, engineered, and assembled in the UK, this sturdy electric wand includes an escalating pulse setting and a 12-month warranty.

Make sure to check out the wand attachments to make this a more versatile sex toy.

Multiple Speeds
Plug-In Cord (10 Foot) 
Body-Safe, Phthalate-Free, Non-Porous
Removable Silicone Head
Brushed Aluminum/Titanium Alloy Body
Variable Speeds Approx. 3000 RPM To 9000 RPM
3 Easy To Use Control Buttons
Do not use it around water, as it is not submersible or splashproof.
Manufacturer Warranty: 1 Year
Size: 16.00in x 4.25in x 2.25in

Tips & Guides:
Vibration Intensity 5 | 5

Intensity 5: There are two types of vibration often described: deep and rumbly or surface and smooth. This vibrator features a deep and rumbly style of vibration and is for those who enjoy maximum stimulation.



Noise Level 4 | 5

Level 4: This is a louder-than-average vibrator and is similar to the sound of rain so that you can hear it through a door. Possibly disguised with music or a white noise machine.

IMPORTANT: Any individual who may be pregnant, has a pacemaker, suffers from diabetes, phlebitis, and/or thrombosis, is at an increased risk of developing blood clots due to recent surgery, or who has pins/screws or other medical devices in their body should consult with a physician before using a massaging device designed for home use. For safety, never handle the massager by the cord, and never immerse it in water or use it in the bath or shower. Also, do not operate it for more than 25 minutes without switching it off to cool down for 30 minutes before switching it back on. Please see the user's manual for complete instructions and safety warnings.

Red Item Number: 712758998392
Silver Item Number: 702565869244
Black Item Number: 712758998408

We Are An Authorized Dealer
Always buy from an authorized sex toy dealer to avoid sex toy scams, knockoffs, used sex toys, toxic materials, or unhealthy ingredients. We care about your health and provide only the best body-safe sexual products.

Clean with a wet cloth and mild soap. Optionally, use a gentle antibacterial toy cleaner. Do not submerge, and do not run underwater. We recommend water-based lubricants.

Please note that the information on this page regarding care and guidelines are general tips for sexual products. Always defer to specific instructions that a manufacturer provides with their product.

Sex toy storage bags should be breathable to prevent bacteria and mold from building on them in between uses. Make sure to check out our sex toy storage bags, cases, and more for properly storing your sex toys.