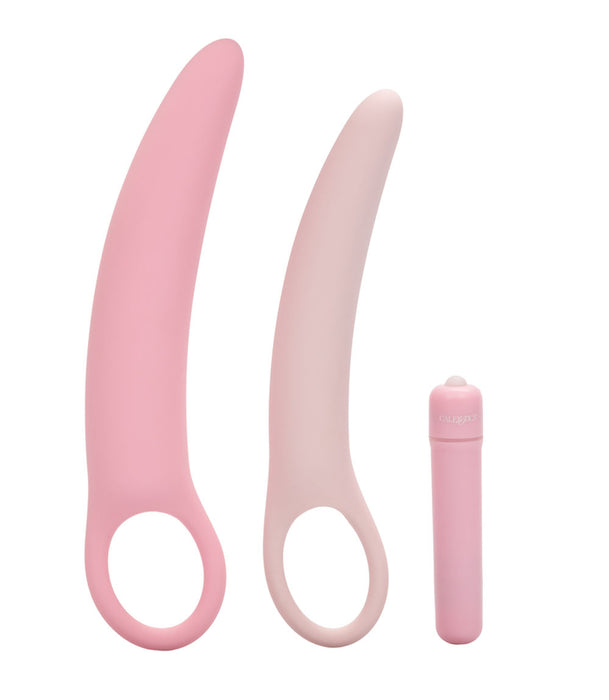 Inspire Vibrating Dilator 3-Piece Set
Sale
Sale
Original price
$60.95
-
Original price
$60.95
Product Details
Cleaning & Care
The Inspire Vibrating Dilator 3-Piece Set comprises two differently sized platinum-cured dilators made by California Exotics. The premium silicone probes have a durable finger loop for gentle insertion and a hollow chamber to hold a bullet vibrator to help increase blood flow to the vagina. This set is designed to relieve painful sex, vaginal tightness, and vaginal atrophy or to prepare for vaginal penetration.

Each piece is made from phthalate-free, silky soft, pastel pink premium silicone and ranges in size for comfortable, gradual dilation. Each dilator has a finger loop for easy use. Insertion of the dilators restores and revives vaginal strength and can also be beneficial in easing discomfort. For a comfortable application, it is recommended that you use a quality lubricant.

Dilators are also suitable for recovery after surgery; speak with your physician before using them to determine when, how often, and the type of dilator that will work best for you.

With each Inspire collection purchase, we donate a portion of proceeds to Living Beyond Breast Cancer (LBBC). The inspiring LBBC works to help support women with breast cancer by providing trusted information and a community of support to ensure no woman feels alone in her fight.

Ergonomically Curved

Body-Safe, Phthalate-Free, Non-Porous
Waterproof & Submersible
Requires 1 AAA Battery (Not Included)

Materials: Silicone, ABS (plastic)
Manufacturer Warranty: 1 Year
Total Length: 5" (Dilator 1), 5.5" (Dilator 2)
Widest Point: 1" (Dilator 1), 1.25" (Dilator 2)

Tips & Guides:


Vibration Intensity 3 | 5

Intensity 3: There are two types of vibration often described: deep and rumbly or surface and smooth. This vibrator features a deep and rumbly vibration and is for those who enjoy moderate stimulation.


Noise Level 3 | 5

Level 3: This is an average-sounding vibrator. It is possibly heard through a door but may be easily disguised with soft music or a white noise machine.

Item Number: 716770088413

We Are An Authorized Dealer
Always buy from an authorized sex toy dealer to avoid sex toy scams, knockoffs, used sex toys, toxic materials, or unhealthy ingredients. We care about your health and provide only the best body-safe sexual products.

This product is made of silicone and ABS plastic, both of which are nonporous and smooth. They are durable and easily cleaned using a sex toy cleaner or washing with soap and water for at least 30 seconds. Take care to avoid contact with any electrical components. Allow to air dry thoroughly before storing it in a dry, breathable location. Avoid using alcohol on sex toys to prevent damage to the ABS material. You may use both water-based and oil-based lubricants with silicone and ABS plastic. Avoid silicone lubricants as they may create an adverse reaction with the silicone material. 

Please note that the information on this page regarding care and guidelines are general tips for sexual products. Always defer to specific instructions that a manufacturer provides with their product.

Sex toy storage bags should be breathable to prevent bacteria and mold from building on them in between uses. Make sure to check out our sex toy storage bags, cases, and more for properly storing your sex toys.