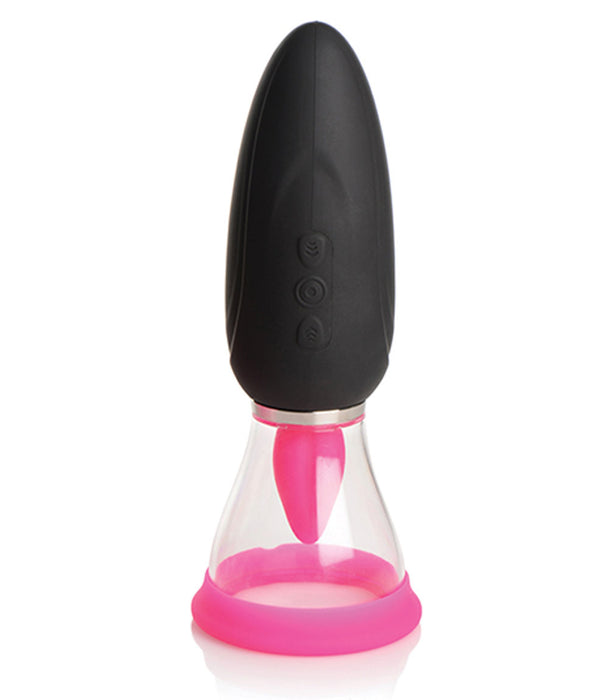 Lickgasm: Licking & Sucking Stimulator
Licking & Sucking Oral Sex Stimulator
Original price
$89.95
-
Original price
$89.95
Product Details
Cleaning & Care
The Lickgasm Licking & Sucking Stimulator is a vibrating, suction-licking sex toy that provides two uniquely designed suction cups, one small and one larger, which can be fitted onto the clitoris or a nipple. These cups feature a clear design and a silky, smooth silicone ring that maintains optimum seal and pressure for excellent suction performance.

Unyielding in their grip, these cups simulate a gentle, intoxicating tingle that boosts your blood flow and enhances sensitivity. It features 10 distinctive vibration modes with a convenient USB cable that allows you to charge your sex toy, making it ready to use anytime.

Includes 2 Cup Sizes
Splashproof (Do Not Submerge)
10 Modes Of Licking & Vibration
Body-Safe, Phthalate-Free

USB Rechargeable

Material: Silicone, ABS (plastic), Polycarbonate, TPE
Overall Length: 1.4"
Tongue Length: 5"
Small Cup Opening: 2" x 2"
Large Cup Opening: 2.8" x 2"

Tips & Guides:
Vibration Intensity 4 | 5

Intensity 4: There are two types of vibration often described: deep and rumbly or surface and smooth. This vibrator features a deep and rumbly vibration and is for those who enjoy intense stimulation.


Noise Level 2 | 5

Level 2: This is a low-volume vibrator that is similar to the sound of someone whispering. It is not likely this would be able to be heard through a door. It is easily disguised by using under the covers, with soft music or a white noise machine.

Item Number: 848518045140

We Are An Authorized Dealer
Always buy from an authorized sex toy dealer to avoid sex toy scams, knockoffs, used sex toys, toxic materials, or unhealthy ingredients. We care about your health and provide only the best body-safe sexual products.


This product is partially made of a porous material, which is stretchy and soft. Using a sex toy cleaner is a preferred method of cleaning porous materials as they can reduce microorganisms. Allow the sex toy to soak in the sex toy cleaner for at least ten minutes before rinsing off. Because the pores are tiny, this material cannot be sterilized entirely with a toy cleaner. That is why allowing it to completely air dry and store it in a cool, dry place is essential. Take care to avoid contact with any electrical components. Use only water-based lubricants with this elastomer toy. Avoid silicone and oil lubricants as they may adversely affect the material.

Please note that the information on this page regarding care and guidelines are general tips for sexual products. Always defer to specific instructions that a manufacturer provides with their product.

Sex toy storage bags should be breathable to prevent bacteria and mold from building on them in between uses. Make sure to check out our sex toy storage bags, cases, and more for properly storing your sex toys.