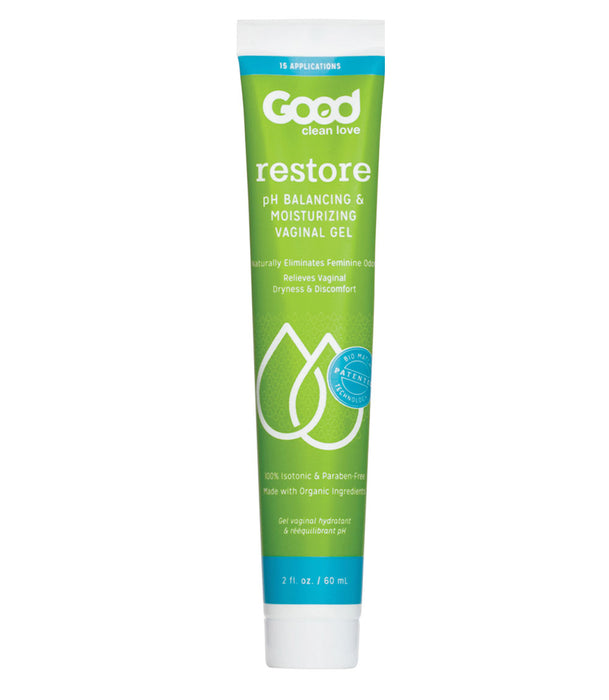 Restore Moisturizing Vaginal Gel
Moisturizing Water-Based Vaginal Gel
Original price
$1.25
-
Original price
$22.95
Product Details
Ingredients
Restore Moisturizing Vaginal Gel is ideal for vaginal dryness and irritation, can be a problem for women at all stages of life, and may result from many factors, including health conditions, medications, hormonal changes, and stress. Restore® Moisturizing Vaginal Gel relieves dryness, eases related discomfort, and reduces abnormal odor. These symptoms are often your body's way of communicating a pH imbalance. If you're feeling off, try Restore® and find your way back to a natural, healthy, and stable vaginal biome. 

pH Level: 3.6 - 4.1
Osmolality: 250 - 400 mOsmol/kg


Moisturizes to Reduce Dryness, Irritation & Unusual Odor
Water-Based with Organic Aloe.
Gynecologist Recommended
pH-Balanced Formula Supports Vaginal Health
No Estrogen, Parabens, Petrochemicals, Glycerin or Artificial Fragrance
No Petrochemicals, Parabens, Glycerin or Artificial Fragrance

15 Applications
1 Easy-to-Clean Reusable Applicators Per Carton
Made in the U.S.A.
Sizes: 5 ml Foil, 2 oz.

5ml Foil Packet Item Number: 893268000710
2 fl oz. Item Number: 893268000222

We Are An Authorized Dealer
Always buy from an authorized sex toy dealer to avoid sex toy scams, knockoffs, used sex toys, toxic materials, or unhealthy ingredients. We care about your health and provide only the best body-safe sexual products.


Ingredients: Organic Aloe Barbadensis Leaf Juice, Xanthan Gum, Lactic Acid, Natural Flavor, Potassium Sorbate, Sodium Benzoate   

*Formula may vary due to occasional improvements.