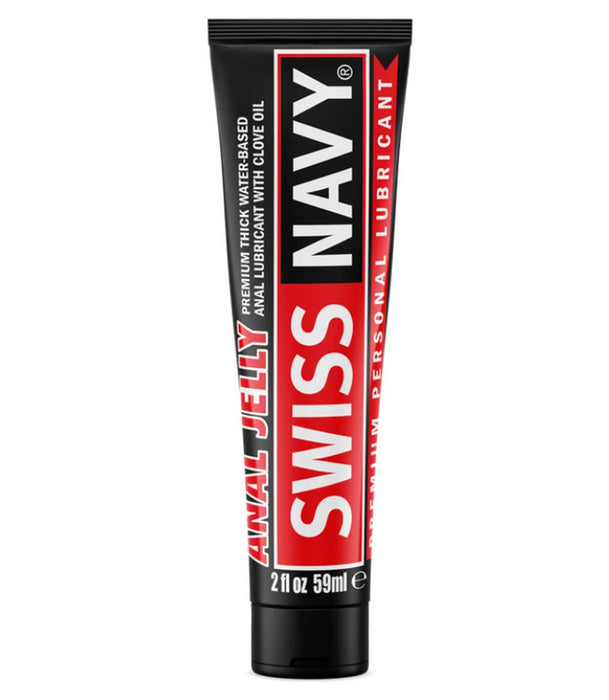 Swiss Navy Anal Jelly With Clove
Thick Anal Jelly Lubricant With Clove
Original price
$9.95
-
Original price
$14.95
Product Details
Ingredients
Swiss Navy Anal Jelly With Clove Personal Lubricant has an extra-thick water-based formula to help make sexual activities more comfortable and enjoyable. It includes Clove Oil, an antimicrobial and a natural anesthetic to help relax muscles and reduce pain. This rich jelly formula provides an intimate cushion and conveniently stays where applied.


Water-Based
Sex-Toy Friendly
Sugar-Free

Non-Staining
Long Lasting
Smooth, Not Sticky
Condom Friendly: Latex Compatible
Glycerin, Petroleum & Paraben Free
Sizes: 2 oz, 5 oz.

2 fl oz. Item Number: 699439007065
5 fl oz. Item Number: 699439003951

Education: The Ultimate Personal Lubricant Guide

We Are An Authorized Dealer
Always buy from an authorized sex toy dealer to avoid sex toy scams, knockoffs, used sex toys, toxic materials, or unhealthy ingredients. We care about your health and provide only the best body-safe sexual products.

Ingredients: Water, Glycerin, Propylene Glycol, Hydroxyethylcellulose, PEG-40 Hydrogenated Castor Oil, Eugenia Caryophyllus (Clove) Flower Oil, Sodium Benzoate, Diazolidinyl Urea, Acesulfame Potassium, Potassium Sorbate, Citric Acid.