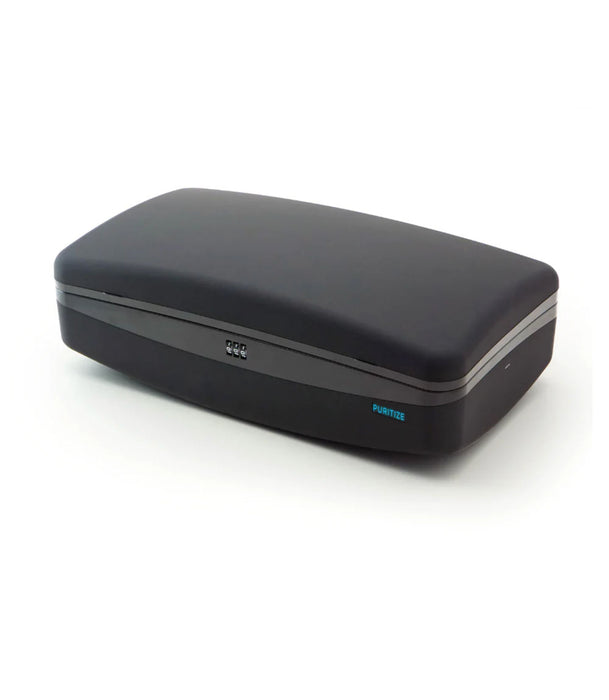 UVee Adult Toy UV-C Sanitizer
UV-C Sanitizer For Sex Toys
Original price
$199.00
-
Original price
$199.00
Product Details
Cleaning & Care
Uvee is the only sanitizing and charging storage system for adult toys. It kills 99.9% of all germs on toys in 10 minutes or less. Scientifically tested by a master biochemist with years of experience in laboratory testing, UVee's™ scientifically proven, patent-pending germicidal UVC light system kills up to 99% of all germs that may cause infections associated with the use of adult pleasure toys. It's quick and easy to use: wipe off the toy, place it inside the UVee™ chamber and close the lid. In just a few minutes, devices will be cleaned and recharged. All it requires is access to a 110V power outlet.

The Uvee Home Play cleans, charges and stores multiple adult toys simultaneously. This bedside storage container includes an auto start and stops sanitizing system with dividers to separate toys. It can also be used to clean cell phones or other devices that need sanitizing.

The Uvee Home Play is also an excellent option for in-store use to clean testers and other objects that contact multiple people regularly, like your phone, remotes, earbuds, tweezers, etc., which is really smart during flu season. Think of it like a crock pot of sanitizing where you can set it and forget it while it cleans. The bulbs also last 20,000 hours (that's 120,000 cycles.)

Kills 99.9% of Germs
Easy To Clean
Key Code Lock For Privacy
3 USB Charging Ports
Additional Wall Outlet Port For Non-USB Devices
Outer Dimensions: 16.5"L x 8.75"W x 6"H
Inner Chamber Dimensions: 13"L x 7"W x 5"H (when closed)
Accommodates Large Toys, Even Body Massagers
Manufacturer Warranty: 1 Year

Tips & Guides:


Black Item Number: 869619000265
White Item Number: 869619000234

We Are An Authorized Dealer
Always buy from an authorized sex toy dealer to avoid sex toy scams, knockoffs, used sex toys, toxic materials, or unhealthy ingredients. We care about your health and provide only the best body-safe sexual products.

Clean your adult pleasure toy(s) with soap and water like you normally would, place them inside the UVee® chamber, and close the lid. UV-C light will emit from the UV-C bulbs and surround your items. Our patented Advanced Refraction Technology® creates a 360º light environment, completely bathing your items in cleansing UV-C from all angles for 10 minutes. UVC light damages the RNA of viruses so that they are no longer able to reproduce and infect. Learn more about the studies & science.

UVee® represents a universal cleaning solution for a full range of materials and products: independent lab testing showed it to be effective on glass, silicone, ABS plastic, and rubber, eliminating 99.9% of bacteria (and other pathogens including CoV-2, yeast, E.coli, salmonella, strep, and pseudomonas) in ten minutes or less using its patented UV-C sanitizing process.