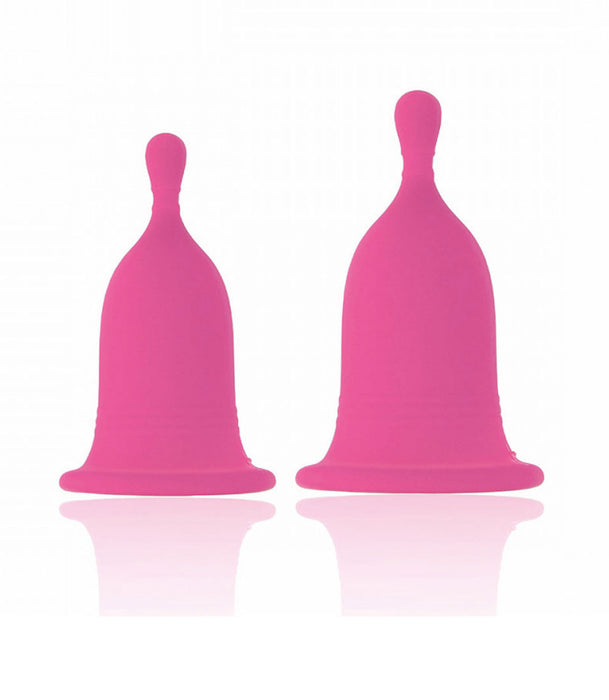 Cherry Cups Menstrual Cups
Original price
$28.95
-
Original price
$28.95
Product Details
Cleaning & Care
The Cherry Cups are menstrual cups and are a terrific alternative to pads and tampons. These menstrual cups are environmentally friendly, cost-effective, made of 100% body-safe silicone, and can be worn for up to 12 hours. This kit includes one small-size cup and one medium size cup to be used based on comfort and flow levels. Hygienic, premium storage bag included.

The small menstrual cup is recommended for those younger than 30 who haven't delivered vaginally and have an average period. The medium size is recommended for those over 30 who have given birth or have heavier periods. The smaller cup may be appropriate for those with vaginal atrophy.


Storage Bag Included
Body-Safe, Phthalate-Free, Non-Porous
Waterproof & Submersible
Material: Silicone
Manufacturer Warranty: 2 Year
Small Cup Size: 1.77" x 1.57"
Medium Cup Size: 1.96" x 1.77"

Tips & Guides:
Menstrual Relief


Item Number: 8717903274927

We Are An Authorized Dealer
Always buy from an authorized sex toy dealer to avoid sex toy scams, knockoffs, used sex toys, toxic materials, or unhealthy ingredients. We care about your health and provide only the best body-safe sexual products.


This product is made of silicone, which is nonporous and smooth. Silicone is durable and easily cleaned using a sex toy cleaner or washing with soap and water for at least 30 seconds. Take care to avoid contact with any electrical components. Allow to air dry thoroughly before storing it in a dry, breathable location. Avoid using alcohol on sex toys to prevent damage to the material. You may use both water-based and oil-based lubricants with silicone. Avoid silicone lubricants as they may create an adverse reaction with the silicone material.  

Please note that the information on this page regarding care and guidelines are general tips for sexual products. Always defer to specific instructions that a manufacturer provides with their product.

Sex toy storage bags should be breathable to prevent bacteria and mold from building on them in between uses. Make sure to check out our sex toy storage bags, cases, and more for properly storing your sex toys.