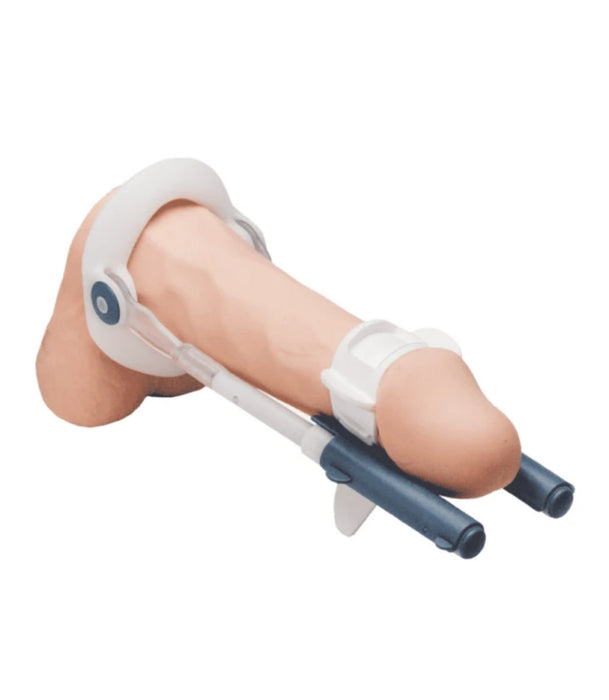 MaleEdge Basic Penis Enlarger
Basic Penis Extender Stretcher Kit
Original price
$149.95
-
Original price
$149.95
Product Details

Cleaning & Care
The MaleEdge Basic Penis Enlarger Kit is a medically approved penis enlarger with documented effects. It carries the European CE mark and is FDA Approved (US Food and Drug Administration), therefore classifying it as a Class 1 medical device. It is made from 100% medical grade materials, hypoallergenic, lightweight, and easy to use.

The Male Edge was invented in 1995 with worldwide patents and is designed and handmade in Denmark. It works by steadily stretching the shaft of the penis, causing the cells to divide and multiply (cytokinesis), which promotes new and permanent tissue growth throughout the penis in a matter of weeks. 

Differences Between The Male Edge Kits

The Basic Kit contains a penis enlarger (stretcher), ruler, two rubber straps, and 24-hour access to a training program.
The Extra Kit comes with everything in the Basic Kit, plus an additional rubber strap and a protection pad.
The Pro Kit comes with everything in the Basic Kit plus an additional three rubber straps, two replacement pads, cohesive gauze, and 2x booster pills.

The manufacturer claims that the product is designed to help enhance penis size as well as address issues such as Erectile Dysfunction and Peyronie's Disease. However, they recommend that you consult a physician before using this product. We also recommend that you consult with a physician before using any penis enhancement product such as this. 

The MaleEdge Basic penis enlarger package contains:

1 - MaleEdge Penis Enlarger
1 - Ruler
1 - MaleEdge Product Box
1 - MaleEdge Travel Bag
1 - Official MaleEdge Program (Brochure)
2 - MaleEdge Rubber Straps

MaleEdge Disclaimer
Results will vary with each individual. Any results mentioned are based on average patient results and not on extraordinary claims. MaleEdge marketing materials have been prepared with great care. However, MaleEdge cannot assume responsibility for their accuracy. Statements regarding MaleEdge have not been evaluated by the Food and Drug Administration. MaleEdge products are certified medical devices with safety and efficacy assessed under Medical Device Directive 93/42/EEC in Europe. Always read the product directions before use. As with other products, seek professional advice before using if you suffer from material allergies, and consult your doctor or pharmacist if you have an underlying medical condition or if on medication.



Additional Information By The Manufacturer
Average growth was found to be 28% in length and 19% in girth. The British Journal of Urology provided an unbiased clinical test to review the MaleEdge Penis Enlargers with 18 male participants between the ages of 23 - 47. It was determined that there was an increase in penis size as follows:

Flaccid penile increased in size up to 1.9 cm / 1.75"
Erect length increased in size up to 2.8 cm / 1.1"
Average penis length increase of 1.9 cm / .07" per week


MaleEdge can be worn under boxer shorts and loose-fitting pants during the day. You can also try sleeping with it on. It may be worn for any sized penis and can be used on circumcised and uncircumcised penises. The MaleEdge device starts at approximately 1.5 inches and goes up to approximately 10 inches.

Erectile Dysfunction
Men who have used MaleEdge are shown to make new, healthier, and stronger cells in their penis due to the stretching motions, which in turn helps in increasing blood flow to the penis. As more healthy cells are created, they can support more blood allowing for larger, firmer, longer-lasting erections. Studies have shown that 61 percent of male patients who used the MaleEdge products had marked improvement in Erectile functioning with a 90 percent increase in sensitivity to their penis.

Peyronie's Disease
The MaleEdge products have also been shown to have a beneficial effect concerning the fibrotic plaque that is typically evident in size reduction and curvature angle in those with Peyronie's disease. It has been shown to help a man recover the length and aid in straightening the penis as well as improve the quality of his erections.

Features

Body-Safe, Phthalate-Free, Non-Porous
Waterproof & Submersible
Materials: Silicone, Stainless Steel
Manufacturer Warranty: 1 Year

Item Number: 5710458910015

We Are An Authorized Dealer
Always buy from an authorized sex toy dealer to avoid sex toy scams, knockoffs, used sex toys, toxic materials, or unhealthy ingredients. We care about your health and provide only the best body-safe sexual products.

Education
How To Use Penis Extenders
Penis Enlargement Tips
Peyronie's Disease: Natural Treatments


We recommend using a water-based lubricant if you choose to use one. Avoid using abrasive cleaners to avoid dulling or scratching the surface. Please note that the information on this page regarding care and guidelines are general tips for sexual products. Always defer to specific instructions that a manufacturer provides with their product.