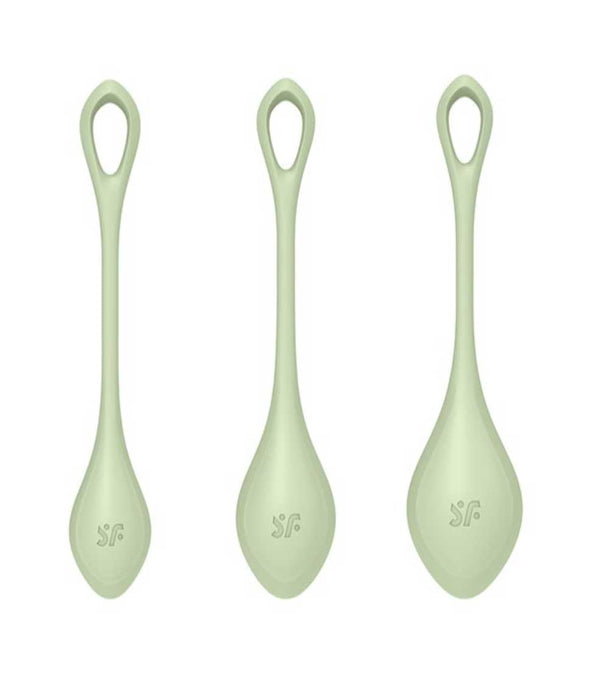 Yoni Power 2 Balls Training Set
Kegel Weights For Pelvic Floor Muscle Strengthening
Original price
$29.95
-
Original price
$29.95
Product Details
Cleaning & Care
The Yoni Power 2 Balls Training Set has been designed to strengthen pelvic floor muscles using Ben Wa balls. Each varying size provides a gradual, comfortable insertion to achieve potent pelvic power.

Begin your quest with the substantial ball measuring about 1.18 inches in diameter and weighing approximately 2.57 ounces. Its weight and dimension provide a delightful challenge for beginners, and it can be comfortably worn while navigating daily upright activities.

Progress with ease and anticipation to the medium variant, which has a diameter of approximately 0.98 inches and weighs about 1.62 ounces. Finally, advance to the feather-light, the smallest variant with a diameter of roughly 0.79 inches and a weight of approximately 0.78 ounces.

Each step intensifies pelvic muscle exercise for increasing strength and sensitivity. Your commitment to regular sessions can assist mothers post-childbirth in reclaiming their pelvic strength. Or you may seek a shield against bladder weakness. The Satisfyer Yoni Power 2 Set is your steadfast guard, promoting confidence and wellbeing.

Crafted with precision, their stainless steel core is enveloped in a skin of seamless silicone, ensuring a journey that is as hygienic as it is exhilarating. With the silicone retrieval loop, your experience is effortlessly controlled, with insertion and removal a breeze.

Commit merely 15 minutes daily to this discreet, empowering exercise, and enjoy the freedom to wear the balls amidst various settings – be it a casual shopping spree, diligent chores, or a spirited sports session.

Helps To Strengthen Kegel & Pelvic Muscles
Body-Safe, Phthalate-Free, Non-Porous
Waterproof & Submersible
Materials: Silicone
Manufacturer Warranty: 15 Years
Weight: 2.18 oz (Beginner), 2.89 oz (Experienced), 3.45 oz (Advanced)

Largest Diameter: 1.18"
Medium Diameter: 0.98"
Smallest Diameter: 0.79"

Tips & Guides:

Eco Green Item Number: 4049369043866
Light Blue Item Number: 4049369043859

We Are An Authorized Dealer
Always buy from an authorized sex toy dealer to avoid sex toy scams, knockoffs, used sex toys, and toxic materials.

This product is made of silicone, which is nonporous and smooth. Silicone is durable and easily cleaned using a sex toy cleaner or washing with soap and water for at least 30 seconds. Allow to air dry thoroughly before storing it in a dry, breathable location. Avoid using alcohol on sex toys to prevent damage to the material. You may use both water-based and oil-based lubricants with silicone. Avoid silicone lubricants as they may create an adverse reaction with the silicone material.  

Please note that the information on this page regarding care and guidelines are general tips for sexual products. Always defer to specific instructions that a manufacturer provides with their product.

Sex toy storage bags should be breathable to prevent bacteria and mold from building on them in between uses. Make sure to check out our sex toy storage bags, cases, and more for properly storing your sex toys.