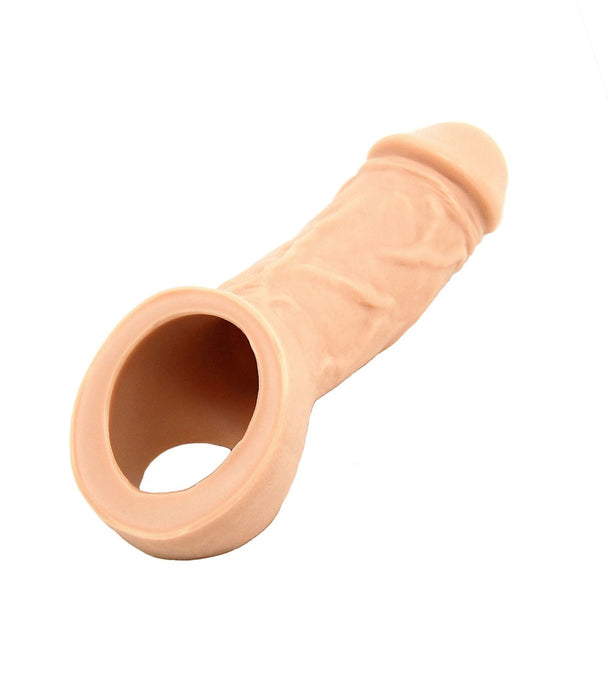 Holster Silicone Penis Extender
Hand Poured SIlicone Penis Extender Made In The USA
Original price
$152.95
-
Original price
$152.95
Product Details
Cleaning & Care
The Holster by Vixen Creations is a penis extender and hollow dildo. Made with platinum silicone, there is a hole for the testicles, and the material is silicone, so it has minimal stretch. Thus taking measurements before getting one is highly encouraged. The strap around the testicles allows for stable thrusting. When held, the silicone is rigid enough not to bend down, but it flexes when you push against it, so while you can thrust with it on, it may sometimes bend.

If the penis is completely flaccid, you may wish to use this product with a harness. It is designed for a non-erect penis on the inside to extend penis size, to keep going after ejaculation, or in some cases, for those with erectile dysfunction (ED).

Hollow dildos are wide enough to accommodate an average-sized flaccid penis inside. This means that the outside of hollow dildos are larger than average dildos. If you have Erectile Dysfunction (ED) and have never used a hollow dildo before, feel free to explore our helpful guide, Sex Toys For Erectile Dysfunction, to better understand how they work and options. 

Guide For Putting On

Roll the sleeve one-third of the way down. Apply lubricant to the inside of it and your penis. Squeeze out the air. Place your penis into the opening and gradually release the pressure. Unroll it to the base. Pull the scrotum through the hole. Pull to one side, push through one testicle, and move it to the other side, slide through the other.

Handcrafted
Durable And Luxurious
Will Not Break Down Or Degrade
Warms And Retains Body Heat
Body-Safe, Phthalate-Free, Non-Porous
Waterproof & Submersible
Material: Silicone
Manufacturer Warranty: 1 Year
Outside Insertable Length: 5.87"
Outside Insertable Diameter: 2.13"
Inner Length 4.5"
Inner Diameter 1.37"

Tips & Guides:

Vanilla Item Number: 838084555204
Caramel Item Number: 838084555211
Chocolate Item Number: 838084555228

We Are An Authorized Dealer
Always buy from an authorized sex toy dealer to avoid sex toy scams, knockoffs, used sex toys, toxic materials, or unhealthy ingredients. We care about your health and provide only the best body-safe sexual products.

This product is made of silicone, which is nonporous and smooth. Silicone is durable and easily cleaned using a sex toy cleaner or washing with soap and water for at least 30 seconds. Take care to avoid contact with any electrical components. Allow to air dry thoroughly before storing it in a dry, breathable location. Avoid using alcohol on sex toys to prevent damage to the material. You may use both water-based and oil-based lubricants with silicone. Avoid silicone lubricants as they may create an adverse reaction with the silicone material.  

Please note that the information on this page regarding care and guidelines are general tips for sexual products. Always defer to specific instructions that a manufacturer provides with their product.

Sex toy storage bags should be breathable to prevent bacteria and mold from building on them in between uses. Make sure to check out our sex toy storage bags, cases, and more for properly storing your sex toys.