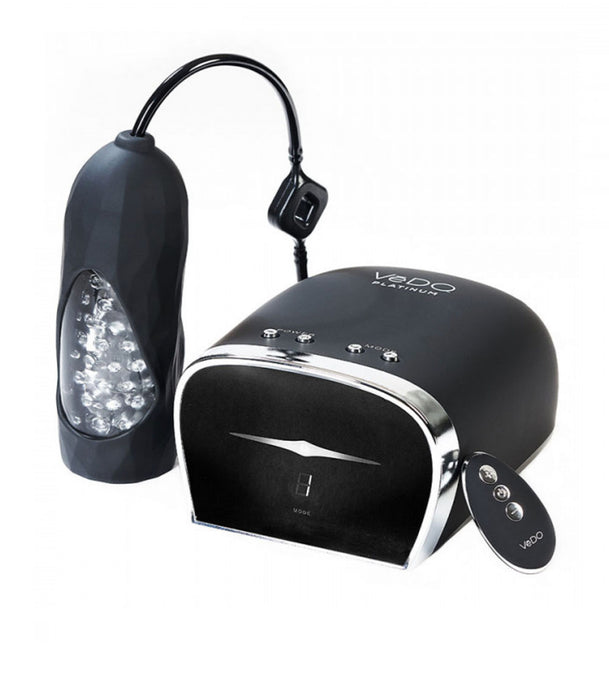 Hummer 2.0 Male Masturbator
Hands Free Masturbation Machine
Original price
$349.95
-
Original price
$349.95
Product Details
Cleaning & Care
The VeDO Hummer 2.0 Ultimate BJ Machine is an automatic suction penis masturbator with a top speed of 180 RPMs and 180 suction impulses per minute. This hands-free, sucking, stroking blowjob machine is an advanced sex toy. It offers 6-speed controls, perfect for sexual stamina training or masturbation.

Allowing you to adjust the pace from a gentle tease to a relentless rhythm simulates varying intensities of intercourse or oral sex. Practicing with these settings can help improve your performance and potentially lead to more powerful, satisfying orgasms.

The second through ninth gears plunges you into a world of oral simulation with eight fully automatic suction modes, each running in four-minute sessions with unpredictable patterns. This replicates the spontaneity and variation of a real-life experience, meaning each use can feel like a fresh encounter. Moreover, you can adjust the speed of each mode to match your desired intensity, offering personalized pleasure at your fingertips.

Included is a 6.5-inch deep textured sleeve that vibrates independently at the push of a button. It serves as a bonus detachable vibrating stroker, meant to deliver unique sensations whether used alone or with the machine. Its adaptability offers a versatile selection of pleasure experiences – use it with the main unit and stroker motor for combined suction and vibration, or use it with just the main unit for suction only.

Easy Cleaning
180 Suction Impulses Per Minute
Manual Mode With 6 Speed Levels
8 Fully-Automatic Suction Modes
5" Deep Textured Sleeve With 10 Vibration Modes
Deep Stimulation For Stamina Training
Use Sleeve With Or Without BJ Machine – Detachable Vibrating Stroker
Sleek Remote Control
Body-Safe, Phthalate-Free
Waterproof & Submersible
10 Vibration Modes

USB Rechargeable: Up To 45 Minute Run Time

Material: TPE, ABS (plastic)
Manufacturer Warranty: 1 Year
Main Body Size: 7-1/4" x 4-3/4" x 10-7/8"
Sleeve Size: 2-3/4" x 8" x 3-1/4"

Tips & Guides:
Suction Intensity 5 | 5

Intensity 5: This is for those who enjoy maximum stimulation.


Noise Level 4 | 5

Level 4: This is a louder-than-average vibrator and is similar to the sound of rain so that you can hear it through a door. Possibly disguised with music or a white noise machine.

Item Number: 716053727695

The Differences Between The Vedo Hummer & Vedo Hummer 2.0

The Hummer 2.0 is sleeker than the original, with rounded edges and stainless steel accents.

The power levels: the original can deliver 109 suction impulses per minute. While impressive, the 2.0 takes it to another level, with six speeds reaching 180 suction impulses in 60 seconds.

The 2.0 also has 8 fully automated suction modes/patterns plus 10 vibration modes from the textured sleeve.

The texture of the inner sleeves: The sleeve in the original Hummer is soft and smooth, without ridges, whereas the 2.0 model has ridges.

The 2.0 features an added pleasure ring which is a concentric circle of soft nubs that add a stroking sensation while the machine vibrates. Each nub is about 0.4″ long.

Please note: At times, you may notice an oily residue on the black silicone sleeve due to prolonged contact between the two sleeves or temperature changes. This is a glycerin-based residue and is entirely harmless. It can be easily wiped off with a damp cloth. 

We Are An Authorized Dealer
Always buy from an authorized sex toy dealer to avoid sex toy scams, knockoffs, used sex toys, toxic materials, or unhealthy ingredients. We care about your health and provide only the best body-safe sexual products.


This product is made of a porous material, which is stretchy and soft. Using a sex toy cleaner is a preferred method of cleaning porous materials as they can reduce microorganisms. Allow the sex toy to soak in the sex toy cleaner for at least ten minutes before rinsing off. Because the pores are tiny, this material cannot be sterilized entirely with a toy cleaner. That is why allowing it to completely air dry and store it in a cool, dry place is essential. Take care to avoid contact with any electrical components. Use only water-based lubricants with this elastomer toy. Avoid silicone and oil lubricants as they may adversely affect the material.

Please note that the information on this page regarding care and guidelines are general tips for sexual products. Always defer to specific instructions that a manufacturer provides with their product.

Sex toy storage bags should be breathable to prevent bacteria and mold from building on them in between uses. Make sure to check out our sex toy storage bags, cases, and more for properly storing your sex toys.