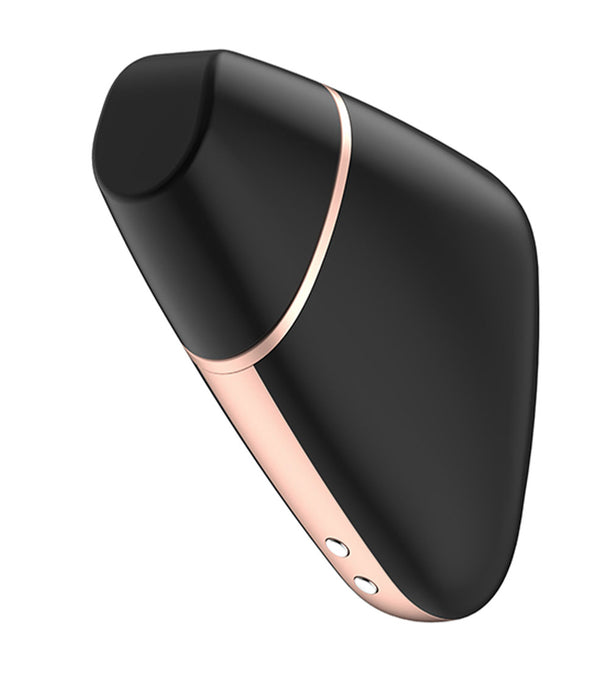 Love Triangle Clitoral Stimulator
Bluetooth Airpulse Vibrator
Original price
$69.95
-
Original price
$69.95
Product Details
Cleaning & Care
The Love Triangle Clitoral Stimulator by Satisfyer is a Bluetooth air pulse stimulator and vibrator that is discreet and small but delivers deep air pulse stimulation for its tiny size. It is waterproof (IPX7), so it can be used in or out of the water. The Bluetooth features allow you to connect it to your phone or tablet and create your own patterns. A partner can also take control by using the video chat function in the app. The app is GDPR-compliant and meets all German and European data protection regulations. So you can be free and take your love life to a new level long distance. 

Stimulation Of The Clitoris Using Air Pressure Waves And Vibrations
2 Powerful Motors

Use With Or Without The App

11 Pressure Wave Intensities 
10 Vibration Settings
Whisper Mode
Body-Safe, Phthalate-Free, Non-Porous
Waterproof & Submersible
USB Rechargeable
Materials: Silicone, ABS (plastic)
Manufacturer Warranty: 15 Years
Total Length: 4.2"
Height: 5.7"
Width: 2.2"

Tips & Guides:
Air Pulse Sex Toys Guide

Vibration Intensity 4 | 5

Intensity 4: This air pulse toy is ideal for those who enjoy maximum stimulation.


Noise Level 2 | 5

Level 2: This is a low-volume vibrator that is similar to the sound of someone whispering. It is not likely this would be able to be heard through a door. It is easily disguised by using under the covers, with soft music or a white noise machine.

Black Item Number: 4061504007540
White Item Number: 4061504007533

We Are An Authorized Dealer
Always buy from an authorized sex toy dealer to avoid sex toy scams, knockoffs, used sex toys, and toxic materials.

Air Pulse Toy Tips

Air pulse sex toys are different in how they perform than vibrators or suction toys. They provide small bursts of air that are pushed toward the clitoris. Because of their unique stimulation, you have to use them differently than a vibrator or suction toy for them to be effective.

One thing to note about air pulse stimulators is that they often will be louder when removed from the skin or if it does not have a proper seal. To ensure the quietest operation, create a seal around the clitoris, turn it on, and then before removing it, turn it off. 

The ideal way to use an air pulse sex toy is to use a bit of lubricant around the rim. This will help create a stronger seal, which is important in how the air pulse sensations feel (they will be less intense without it). Adding the lubricant will also make it quieter. Once the lubricant is applied, spread the labia to expose the clitoris. Then place the air pulse toy directly over the clitoris creating a seal around it and hold the air pulse toy in place; relax and enjoy the stimulation.

This product is made of silicone and ABS plastic, both of which are nonporous and smooth. They are durable and easily cleaned using a sex toy cleaner or washing with soap and water for at least 30 seconds. Take care to avoid contact with any electrical components. Allow to air dry thoroughly before storing it in a dry, breathable location. Avoid using alcohol on sex toys to prevent damage to the ABS material. You may use both water-based and oil-based lubricants with silicone and ABS plastic. Avoid silicone lubricants as they may create an adverse reaction with the silicone material.

Please note that the information on this page regarding care and guidelines are general tips for sexual products. Always defer to specific instructions that a manufacturer provides with their product.

Sex toy storage bags should be breathable to prevent bacteria and mold from building on them in between uses. Make sure to check out our sex toy storage bags, cases, and more for properly storing your sex toys.