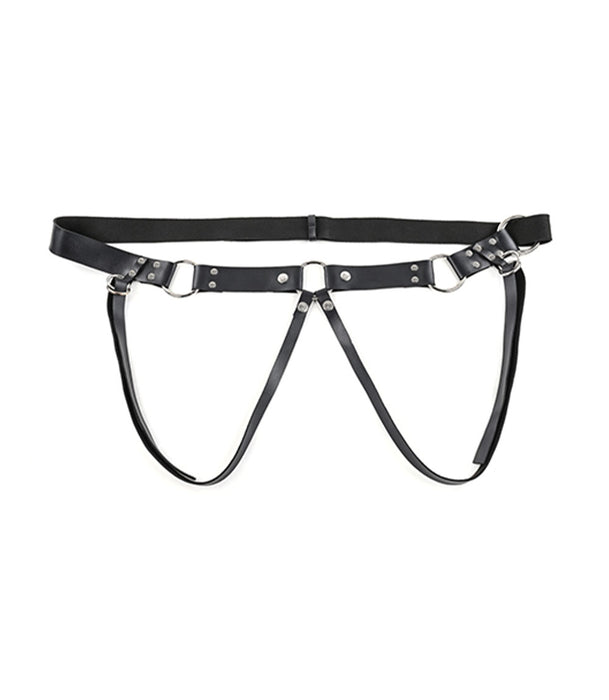 Montero Strap-On Harness
Vegan Leather Strap-On Harness
Original price
$38.95
-
Original price
$38.95
The Montero Strap On by Sportsheets® is designed for maximum comfort and usability. Its vegan leather aesthetic offers a striking visual appeal. Yet, despite its sturdy appearance, the strap-on is exceptionally straightforward to use, designed with your comfort in mind.
With silver hardware accents, it's also customizable to your personal needs. The excess strap material can be trimmed for a perfect fit, accommodating hips up to 69" (175.26 cm), catering to a diverse range of body types. The added feature of the Merge Harness Silicone Cushion offers enhanced stability during use, making your experience more enjoyable and fulfilling.
One of the standout features of the Montero Strap On is its versatility. The adjustable snaps can accommodate a variety of O-Ring sizes, demonstrating its commitment to adaptability. It comes with an interchangeable 2" (5.08 cm) O-Ring, but don't feel limited by that. The 4-way adjustable straps are an assurance that it can be tailored to your unique needs.
The Montero Strap On can also be paired with various dildos, opening a world of opportunities for varied experiences. Whether you're a beginner venturing into this exciting world, or a seasoned expert, the strap-on ensures that every interaction is as comfortable as possible.

Dildo Not Included
Has Snaps That Will Accommodate A Variety Of O-Ring Sizes 

Can Be Used With Other Dildos 
Comes With An Interchangeable 2" (5.08 cm) O-Ring 
4-Way Adjustable Straps

Limited Lifetime Warranty
Item Number: 646709696153

Education: Strap-on Sex Harness Guide

We Are An Authorized Dealer
Always buy from an authorized sex toy dealer to avoid sex toy scams, knockoffs, used sex toys, toxic materials, or unhealthy ingredients. We care about your health and provide only the best body-safe sexual products.

Cleaning
Vegan and faux leather are the same and are made from plastic or vinyl. They can be washed with mild soap and water. Do not scrub the vegan leather to avoid damaging the product's surface. You can use a polishing cream to add luster by applying a small amount using a dry cloth, spreading it gently, and allowing it to dry for 24 hours.