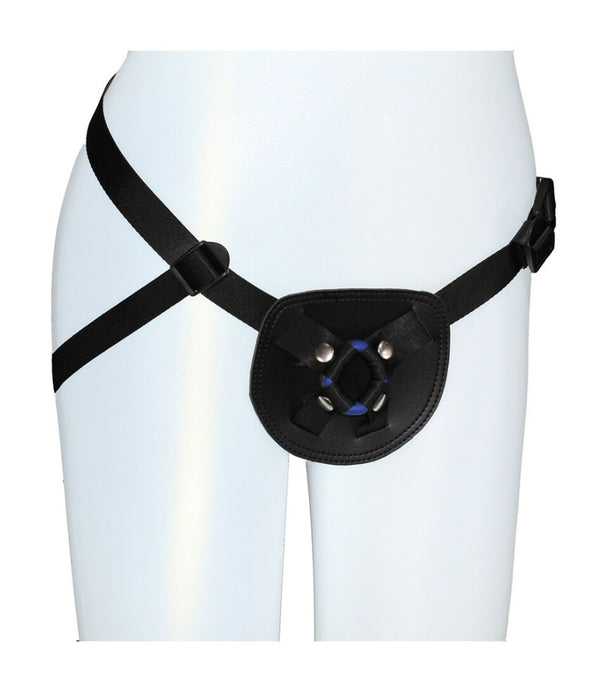 SX For You Beginner's Harness
Faux Leather Strap-On Harness With Silicone O-Rings
Sale
Sale
Original price
$35.95
-
Original price
$35.95
Product Details
Cleaning & Care
The SX For You Beginner's Harness is a strap-on harness made with vegan faux leather and soft nylon by Blush and fits up to a 47-inch waist. It comes with two strong silicone support rings allowing you to use most sized dildos, including very large ones. The snap fasteners secure the support rings, and the harness is durable for heavy activity, so it can be used by advanced users. Like all of our products, it is free of phthalates and latex. Blush products are 3rd party tested for product safety, and their sex toy materials comply with international safety requirements.

Fits Up to 47 Inch Waistline
Comfortable Fit for Maximum Control
Fully Adjustable Thigh & Waist Straps
Material: Faux Leather, Nylon, Silicone
Length: 9.2"
Width: 26"

Item Number: 735380802752

We Are An Authorized Dealer
Always buy from an authorized sex toy dealer to avoid sex toy scams, knockoffs, used sex toys, toxic materials, or unhealthy ingredients. We care about your health and provide only the best body-safe sexual products.

Education: 

Strap-on Sex Harness Guide 

Anal Strap-On Pegging Guide

This product has silicone rings, which are nonporous and smooth. Silicone is durable and easily cleaned using a sex toy cleaner or washing with soap and water for at least 30 seconds. Allow to air dry thoroughly before storing it in a dry, breathable location. Avoid using alcohol on sex toys to prevent damage to the material. You may use both water-based and oil-based lubricants with silicone. Avoid silicone lubricants as they may create an adverse reaction with the silicone material.  

Vegan and faux leather are the same. Most faux (fake) leather is made from plastic or vinyl and can be washed with mild soap and water. Do not scrub the vegan leather to avoid damaging the product's surface. You can use a polishing cream to add luster by applying a small amount using a dry cloth, spreading it gently, and allowing it to dry for 24 hours.

To clean the nylon straps, you may rub them with a damp, soapy cloth. Then, blot the area with a dry cloth to remove the excess water. To scrub off tough stains, use a cloth dipped in a solution of warm water and a laundry detergent that doesn't contain bleach.

Please note that the information on this page regarding care and guidelines are general tips for sexual products. Always defer to specific instructions that a manufacturer provides with their product.

Sex toy storage bags should be breathable to prevent bacteria and mold from building on them in between uses. Make sure to check out our sex toy storage bags, cases, and more for properly storing your sex toys.