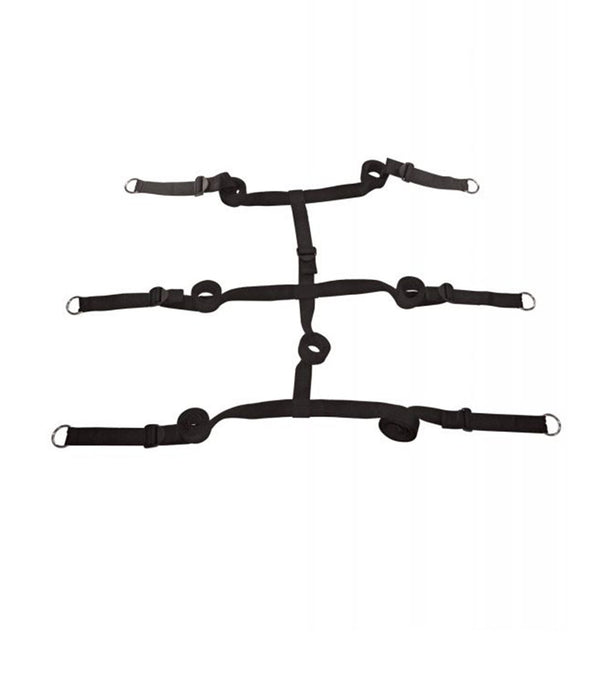 Extreme Under the Bed Restraints
Bed Restraints For Any Sized Bed
Original price
$46.95
-
Original price
$46.95
Product Details
Cleaning & Care
Take your intimate play to new heights with the Extreme Under the Bed Restraints®. Set up in mere minutes, this versatile restraint system fits any size mattress or door, making it perfect for use at home or on your exciting vacations. It offers six points of connection, allowing you to attach cuffs, a collar, and more. Discover endless configurations that allow you to unlock hidden depths of pleasure and exploration.

Crafted with welded O-rings, this kit promises absolute strength and durability, so you can confidently take your play to new limits. The robust construction guarantees your partner will remain secure, no matter how daring or intense your activities become.

Comprised of polypropylene, nickel-free metal, and ABS plastic, it's designed to stand up to your wildest desires while prioritizing your well-being. The total length of this kit is a generous 132", with a center strap length of 66" and a webbing width of 1.5". 


Fits Any Sized Bed
Body-Safe, Phthalate-Free
Materials: Polypropylene, Nickel-Free Metal, ABS (plastic)
Limited Lifetime Warranty
Total Length: 132"
Center Strap Length: 66"
Webbing Width: 1.5"

Tips & Guides:

Item Number: 646709980320

We Are An Authorized Dealer
Always buy from an authorized sex toy dealer to avoid sex toy scams, knockoffs, used sex toys, toxic materials, or unhealthy ingredients. We care about your health and provide only the best body-safe sexual products.

Polypropylene is a material that can usually be cleaned safely using mild soap and water. To clean your polypropylene restraints, start by filling a sink or basin with lukewarm water. Add a small amount of mild soap or detergent to the water. Next, gently move the restraints around in the soapy water, making sure to clean all surfaces. Once you're done cleaning, rinse the restraints thoroughly with clean water to get rid of any leftover soap. Finally, let them air dry completely before you store or use them again.