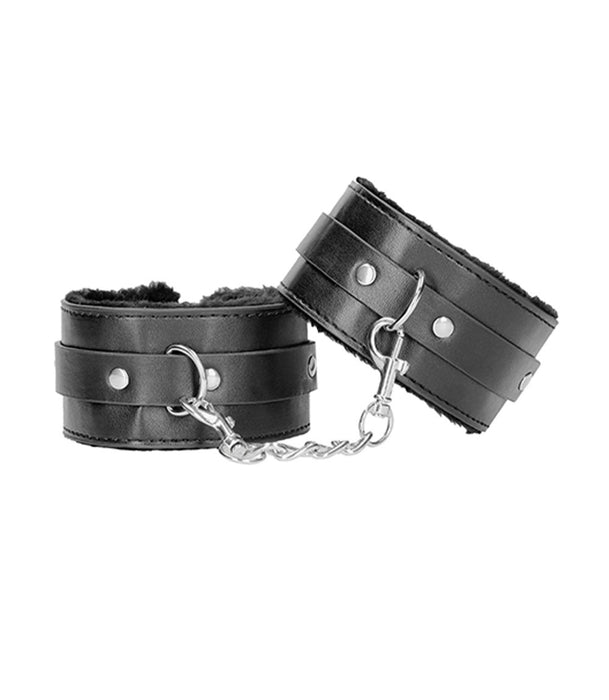 Plush Vegan Leather Ankle & Wrist Cuffs
Vegan Leather Ankle Cuffs
Original price
$19.95
-
Original price
$19.95
Discover a delightful balance between comfort and control with our Plush Ankle Cuffs, which can also be used on the wrists. These aren't your ordinary restraints; they're a luxurious way to enhance your play, providing a uniquely sensational experience that perfectly blends pleasure and restraint.
With the interior crafted from the softest plush, these cuffs hug your ankles with a gentle yet firm embrace. The adjustable strap guarantees a perfect fit, easily catering to various ankle sizes without compromising on security.
Featuring a sturdy clasp, they are designed to stay put, providing you the reassurance needed to fully immerse in your intimate moments. An attached ring facilitates easy hook-ups, adding a layer of convenience to your encounters.
Plush Ankle Cuffs boast a compact dimension of 12.99" x 3.15" x 1.97", ensuring they're just as easy to store as they are to wear. And despite their robust design, they're incredibly lightweight, weighing only 3.67 oz. 
This product is 100% phthalate-free, upholding your wellness and safety above all. Experience the feeling of being held, securely yet comfortably, as you push the boundaries of pleasure. Order your set today, and welcome a world of sensory delights!
Item Number: 7423522574546
We Are An Authorized Dealer
Always buy from an authorized sex toy dealer to avoid sex toy scams, knockoffs, used sex toys, toxic materials, or unhealthy ingredients. We care about your health and provide only the best body-safe sexual products.
Materials: Bonded Vegan Leather, Faux Fur Lining
Cleaning
Vegan and faux leather are the same and are made from plastic or vinyl. They can be washed with mild soap and water. Do not scrub the vegan leather to avoid damaging the product's surface. You can use a polishing cream to add luster by applying a small amount using a dry cloth, spreading it gently, and allowing it to dry for 24 hours.
Related Education: BDSM Toys & Role Play