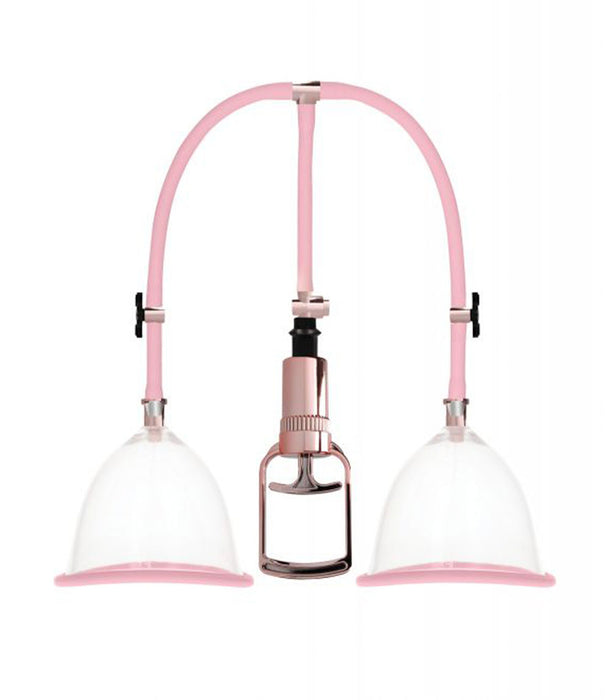 Pumped Breast Pump Set
Original price
$49.95
-
Original price
$49.95
The Rose Gold Pumped Breast Pump Set contains three cylinders that allow you to pump blood into your nipples to increase sensation and erotic pleasure. Easy to use, place the cylinder over your nipples and squeeze the pump to draw blood into the area. You will feel suction as your nipples temporarily increase in size and sensitivity.
You can easily release the pressure in the cylinder by pressing the release valve on the bulb and detach the industrial-grade acrylic cylinder from the pump with the simple clip system, leaving your nipples suctioned up in the cylinder.
Use it no longer than 20-30 minutes. The kit has two breast cups, one hose, and one hand pump. Please read the product manual before using any vacuum constriction devices (VCDs), including this one. Stop using the device immediately if you experience any pain or discomfort.
Please note that pumps like these should not be used by those with a heart condition or blood disorders such as hemophilia or blood clots.
Quick And Efficient Vacuum Suction
Easy To Use
Body-Safe, Phthalate-Free, Non-Porous
USB Rechargeable
Material: Acrylic, Silicone, ABS
Item Number: 8714273548382
Education: Nipple Toys & Nipple Stimulation
We Are An Authorized Dealer
Always buy from an authorized sex toy dealer to avoid sex toy scams, knockoffs, used sex toys, toxic materials, or unhealthy ingredients. We care about your health and provide only the best body-safe sexual products.