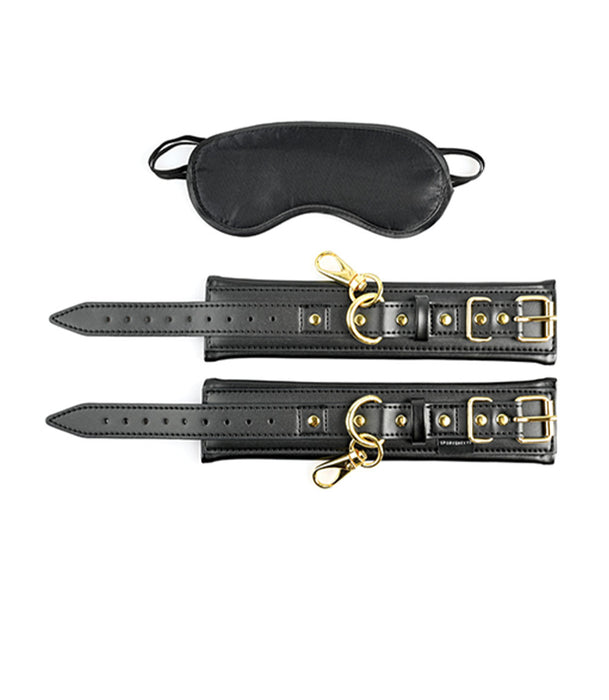 Sportsheets Cuffs & Blindfold Set
Original price
$34.95
-
Original price
$34.95
The Sportsheets Cuffs & Blindfold Set is designed for beginners and seasoned enthusiasts with cuffs that offer creative freedom. Each cuff is 10 inches long, adjustable, and adorned with exquisite golden hardware, including a buckle closure. This not only ensures a custom and secure fit for both wrists and ankles but also adds a touch of luxury to your intimate moments.
They come with a connector clip on each cuff for versatile play, allowing you to connect them together or attach them to just about anything your heart desires. The options are limited only by your imagination. Use these cuffs with your favorite accessories, or try them with our Adjustable Spreader Bar for a truly unforgettable experience.
Incorporate the included satin blindfold for heightened excitement and anticipation. Crafted from soft black satin, the blindfold is designed to plunge you or your partner into darkness, heightening the senses and amplifying every touch, whisper, and sensation.
This set, offering comfort and durability without compromising on style, speaks volumes about attention to detail. Made from cruelty-free, vegan leather, these cuffs are an ethical choice that still delivers on both looks and performance.
Set Includes:
Two 10" (25.4cm) adjustable faux leather cuffs adorned with golden buckles and connector clips.
One luxurious, sensory-enhancing satin blindfold.
Item Number: 646709021030
We Are An Authorized Dealer
Always buy from an authorized sex toy dealer to avoid sex toy scams, knockoffs, used sex toys, toxic materials, or unhealthy ingredients. We care about your health and provide only the best body-safe sexual products.
Education: BDSM Toys & Role Play