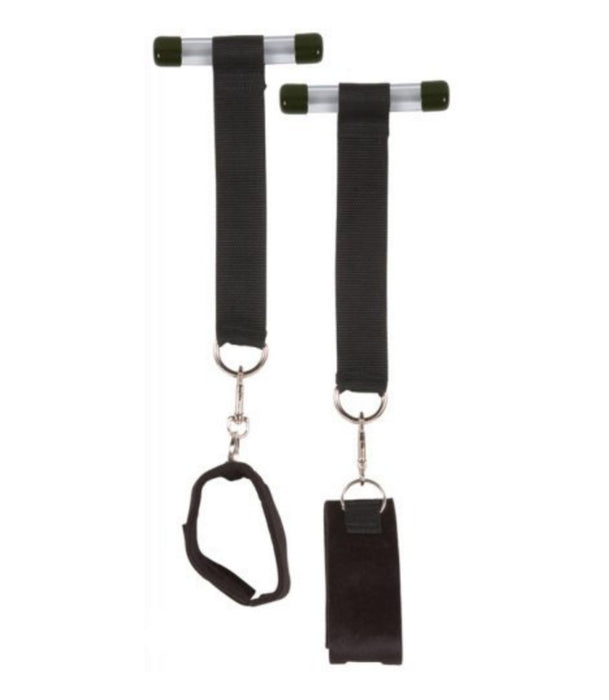 Sportsheets Door Jam Cuffs
Door Jam Cuffs Sex Restraints
Original price
$24.95
-
Original price
$24.95
The Door Jam Cuffs by Sportsheets are carefully crafted with Velboa fabric, promising a snug yet comfortable fit around your wrists or ankles. This plush material is designed with your skin's sensitivity in mind, ensuring your explorations into bondage are always gentle and safe. The polypropylene webbing is both durable and lightweight, providing secure restraint without any unnecessary strain.
For ease of use, the cuffs are affixed to sturdy door straps, which cleverly utilize any door in your home as an instant bondage stage. With an approximate length of 8.5" attaching each cuff to the strap, the cuffs offer a generous range of movement while maintaining the exciting element of constraint.
Whether you slide them over the door for wrist restraint or under for ankle play, the cuffs' placement is entirely up to your preference, and switching between the two can be done in a matter of seconds. No installation is required, making this set an incredibly versatile tool that can be quickly tucked away when your session is over.
The Door Jam Cuffs feature nickel-free hardware, ensuring the product is hypoallergenic and suitable for those with sensitive skin or allergies. Moreover, including a Hook & Loop system, a plastic tube, and a cap ensures a secure and easy fit, adding another level of comfort to your experience.
Item Number: 646709324018
Education: BDSM Toys & Role Play
We Are An Authorized Dealer
Always buy from an authorized sex toy dealer to avoid sex toy scams, knockoffs, used sex toys, toxic materials, or unhealthy ingredients. We care about your health and provide only the best body-safe sexual products.