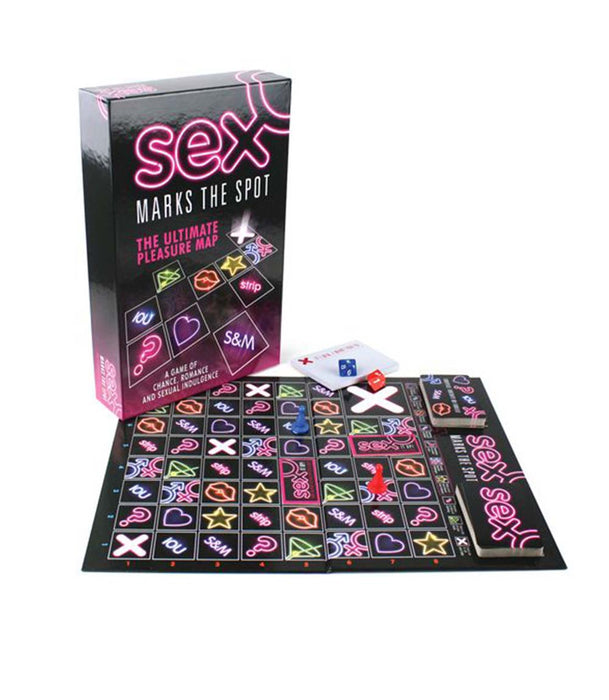 Sex Marks the Spot
Intimacy Building Game For Couples
Original price
$29.95
-
Original price
$29.95
The Sex Marks the Spot Game by Creative Conceptions is a game of chance where all roads lead to romance and sexual exploration. Navigate across a grid loaded with erotic surprises and sexy suggestions, picking up Xs and Os to unlock your favorite fantasy ahead of your partner's. Each square reveals a little more as you explore each other like never before. The prospect of an orgasmic finale is on the cards for the winner.
Game Includes
30 Forfeit Cards: 180 sexy challenges spread over 6 categories.
30 Sex Cards: Sexy scenarios for steamy in-game action.
50 Score Sheets (in pad): The key to your hidden pleasure.
2 Sexcuse Me Cards: Special tokens to avoid or reverse a sticky situation.
4 Sex It Up Markers: To create in-game portals of pleasure.
1 Fold Out Game Board: The pleasure map to navigate your naughtiness.
2 Playing Counters
2 Eight-Sided Dice
1 How To Play Guide
Item Number: 847878002152

We Are An Authorized Dealer
Always buy from an authorized sex toy dealer to avoid sex toy scams, knockoffs, used sex toys, toxic materials, or unhealthy ingredients. We care about your health and provide only the best body-safe sexual products.

Related Education: Sex Toy Gift Guide